See the long marathon at the left side of my blog?? 14-day-battle seems like 14,000 years for me. NO! I'm not exaggerating!
sigh
One look at my msn list, what I can see is many of them (from other schools) are already putting shoutouts like :
relieved!
it's over!
finally it's relax time!
hahahha!
ARGHHHHHHHHHH
i'm jealous. i'm....i'm.....i'm....!
AIH
5 days of holidays, no, it's not called holidays. Holidays are supposed to be filled with
happiness, joy, our hobbbieess, sleep whenever we want to, go wherever we want to and sooooooo relaxing....
*beam beam*
Clearly, i'm
d.r.e.a.m.i.n.g.
With those extreme subjects next week, do you think we can consider it a holiday?
But at least, I'm relaxing now. I'm determined to start my revision tomorrow night, or perhaps Sunday. (: Actuallyyyy, I had promised to myself that I'm going to work hard for this final year exam when I got poooooooor results in last monthly test. Yet, I failed to fulfil my promise to myself, as I have not worked hard enough. Nvm. Nvm. There's still SPM. =DDD (self-consoling)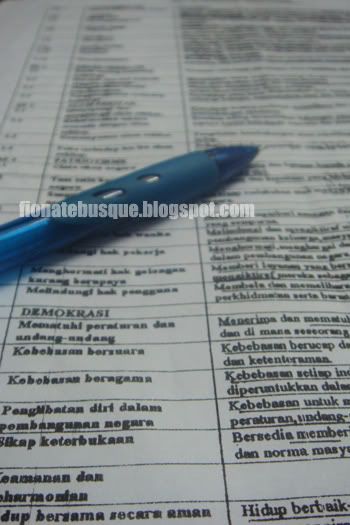 trying to show off the longgggggggg list of moral values that i've memorised, heheee.

TO ALL FELLOW INDIANS :
HAPPPY DEEEPAVALI!!!
nandri nandri ~~
fiona :)