AWWW, i'm sooooooo
tanned
now yet i'm so HAPPYYYYYYYY!!
We the
RED house team
got the 1ST RUNNER UP for this yr olahraga!! *hops around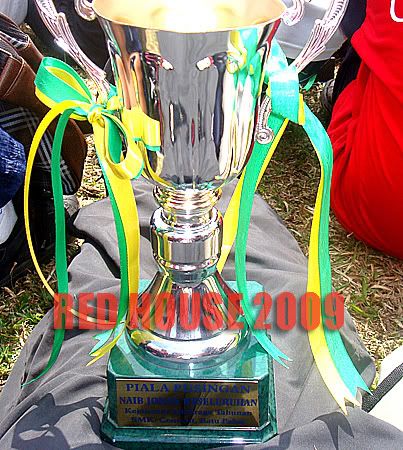 though we din manage to maintain our champion which we held for a few last consecutive years, but it's OK! We'd done our veryvery best right!! though i admit i really felt a shiver in me when merah is announced as the 1st runner up and biru the champion. aiks. Neways biru the champion I still LIKE IT~hahahaha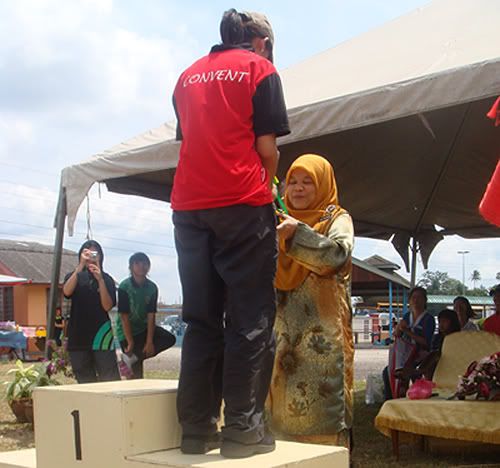 This is me, d Captain of Red House team receiving the trophy from the Principal. Honest this is me! This is the first time ever in my life that I stood on this thingie to receive a prize since Primary 1!!! =.= Such memorable moment!! take picture xD
Besides, i mean MOREOVER, we got the 1st runner up for our Perbarisan!! *yoohoo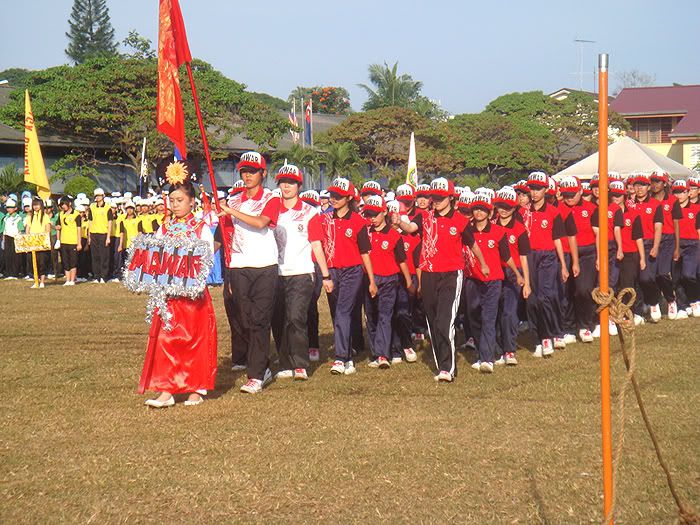 See, our cute lil princess and d longest contingent :D *Thumbs up to you guys!
AND Prefects' perbarisan got the
CHAMPION
!!! omgomg. i'm so proud of u ppl :D
I'm reallly really sooo happyyy to d max now! Here, i'd like to thanks to these people who helped me so so so much that i'm so grateful that no words could describe my heartfelt appreciation to u guys *sobs* hehehe. :
Santhiaya

(she must be on top of d list cuz she's reallly so super duper helpful that ppl tot she's my manager that stood by my side all d time =.= and helped me find peserta that kept on missing. she came to sch in d afternoon to acc me under d hot sun when she can choose to stay at home goyang kaki watch tv. she helped me in almost everything without any complaints or hoping for any rewards cuz she said we're in a team! SANTHIAYA I LOVE U SO MUCH!! You'll be blessed :)
Wi Lian & YanTong

(These are two very artistic n creative-minded ppl that helped me in d khemah deco thingie. huuuhuuu~ thank you!! )
Chee Fam & Josephine and all of them in the Perbarisan

(Thank you for putting so much effort into d perbarisan. chee fam n jo thanks cuz u all made the impossible possible!!
ALL the athletes

: Chin Lee, Nabilah, TingTing, LuJing, Arisha, Paula, Pauyi, Li Ying, Azreen, Azreena, Azureen, Aini, Izza, Syaheera, Xue Jing, Ching Ting, Janaki, Shi Hui and etc etc etc etc etc. There's so many of them!!! A BIG thank you!! :D
Miss Cheah

(My teacher. She helped me alot alot alot alot alot alot that I forgotten what she helped me. no lah just kidding. She really sacrificed lots, from standing under the hot sun to cheer for our athletes to running around like what to help me search for athletes. Thanks teacher!)
This is her =)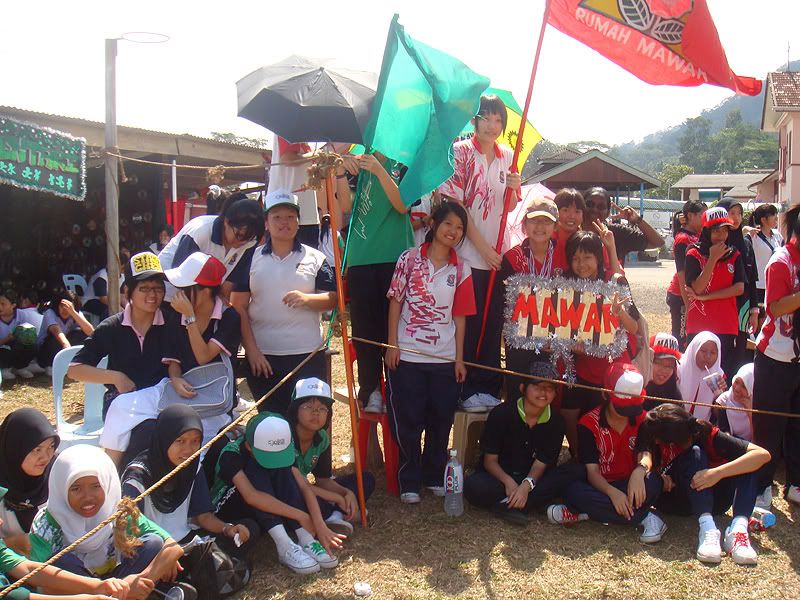 Merah Go Go!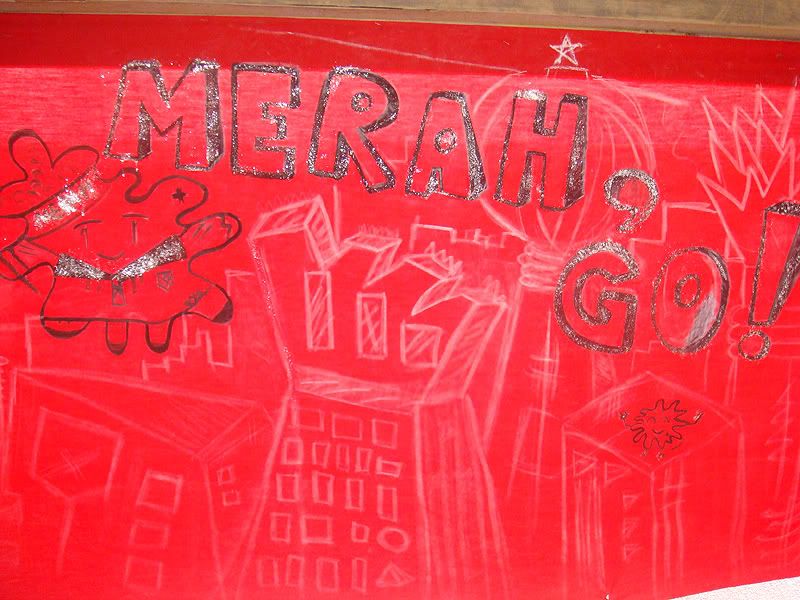 drew by Wi Lian and Yan Tong :D
Me and one of our athletes, Nabilah.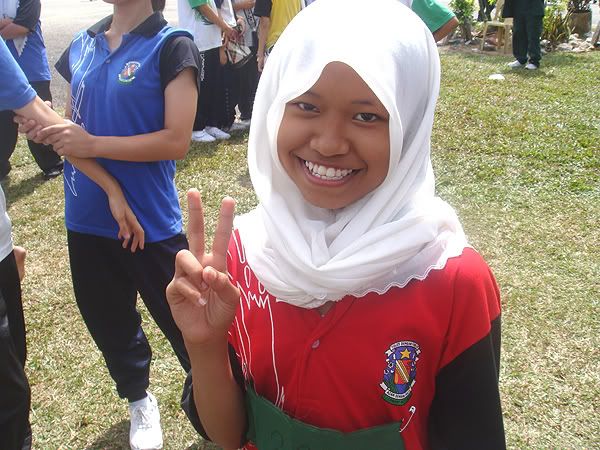 One of our athletes too, Aini!! I like her laaa. she's so cute and could run so well :D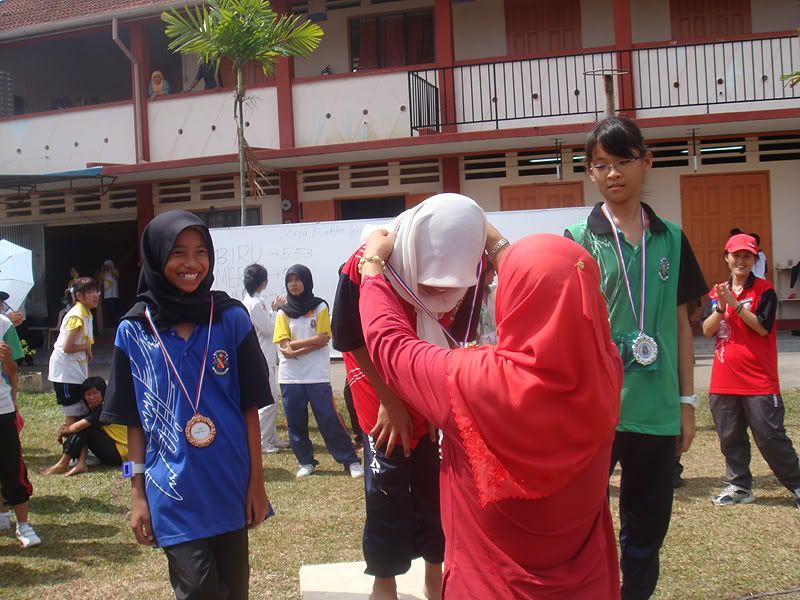 Miss Cheah behind there so happpy :D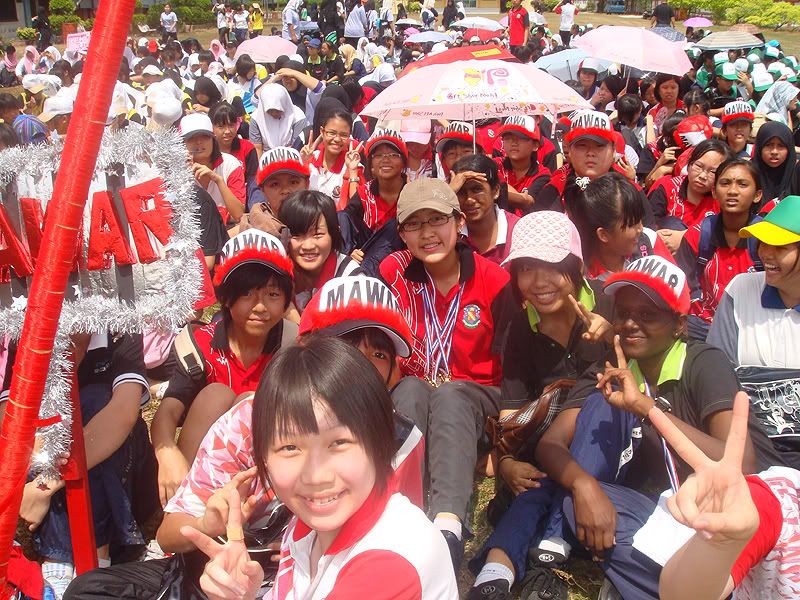 *Yoohoooo! Red house~
i hate TingTing the most in front onee. cuz she forever wont be tanned deeeeee. =.=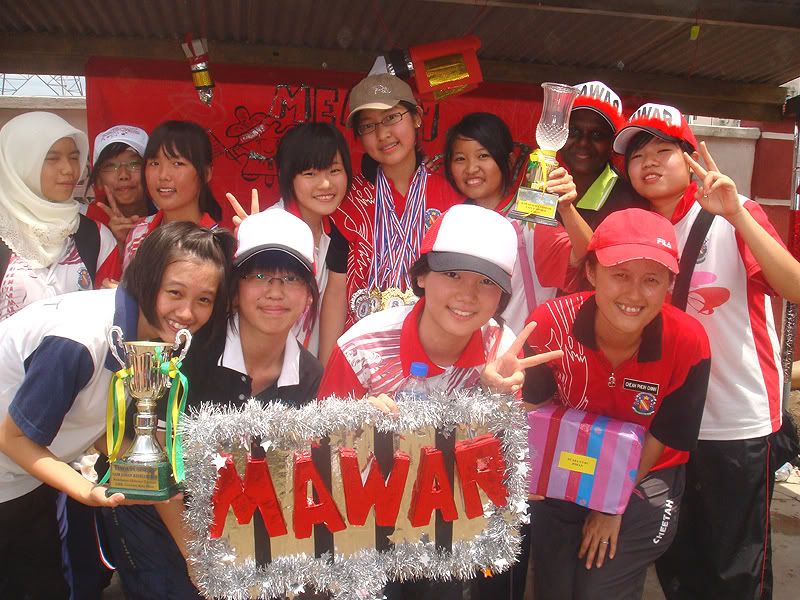 WOOOOHOAAAAAA :D
And LAST but not least,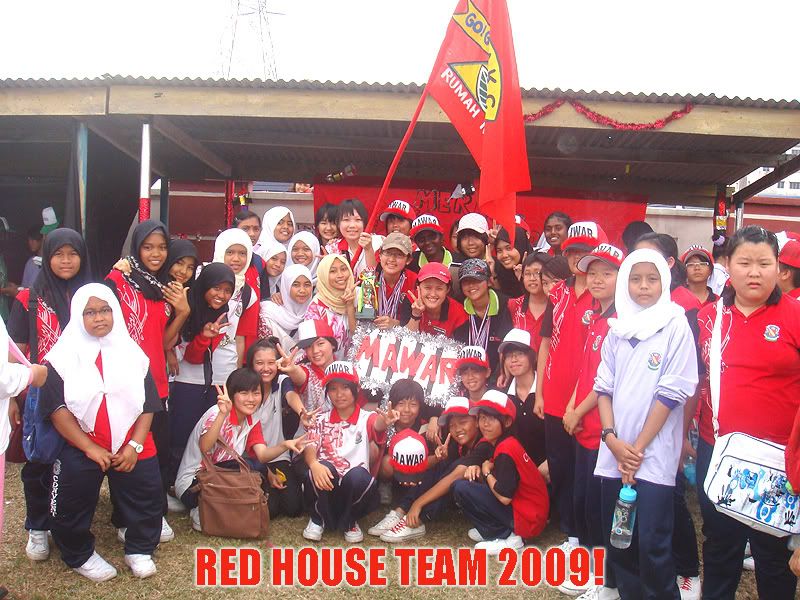 THANK YOUUU EVERYONEEE for making me proud!!!
OH MERAH U SO FINE, YOU SO FINE U BROUGHT MY MIND!
To emphasize on this again...
....
..
.