These three days have been kinda busy. Wow, for the first time ever I claim I'm busy this holiday. WootS~ worth celebrating yea, for Fiona is finalllyyyyy
busy
!! :D
O.0``wtheck
Christmas day went shopping at
Aeon Tebrau City
at Johor Bahru. One of my most-favourited place for shopping!
Well, the journey to JB is sorta
relaxing
..without the bumpy roads. I really hate bumpy roads, make me wanna vomit only, and also make me can't sleep. Cuz when I sleep in car, I will lean my head against the window there. wtheck. So if the road is bumpy, my head will be like..keep banging on the window.
bambambam,ouch
. That's why cannot sleep lor. So, to JB, i can sleep sooo soundly and reach JB dengan penuh semangat wth and do my shopping soooo happily~ =D
But this is not the main reason lah. The main reason is...Harris Bookstore! I really really really like Harris. There are sooo many books there, all kinds of books. Whatever books you want. Yes, alllll kinds.
But no yellow magazine laa pls.
But most importantly, it is so
well-organized
. This is very important one. Like you want best-seller books, you don't have to stretched your head until like giraffe wtheck to search for your book when those labels are out of view when blocked by heads in over-crowded bookstore. And for each category of books, there are such a wide variety of it. I really like Harris lah! :D
And during end of the year like now, there are
danger
zones
everywhere. Ya. EVERYWHERE in the shopping mall. Very dangerous seriously. When you spotted some magical words, you will be like hypnotized by it and automatically bring yourself into that particular place which is now known as danger zone, then your wallet lose weight but you feel weight on your hands.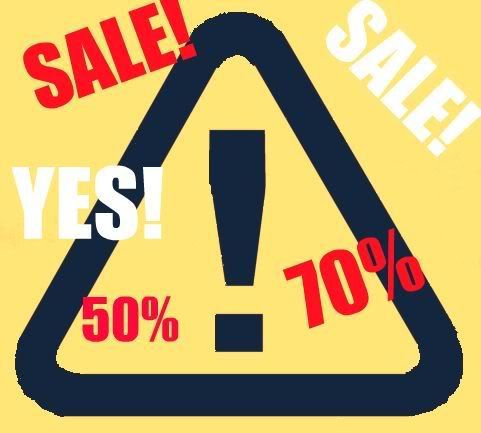 It's everywhere! so niceeee for us~ the clothes all cheap cheappppp! hahaha :D
*****
Today went KPP. KPP=Kurikulum Pendidikan Pemandu
or we call it listen undang la, easier. (: at Sri Gading
It is divided into two sessions. Morning and afternoon. From 8am to 3.30pm. wtheck. Somemore the speakers are soooo not punctual, should be starting at 8, but end up at 9am. Afternoon session, should be 12 break, but in the end late 45 minutes. Then my mama come fetch me to eat at bpmall, Chicken Rice Shop, and I had to be like stuff everything into my mouth wtheck LoL because the speaker said he will be back at 1.30pm wtheck. Then guess what, he returned at 2pm wtheck.
Haiyo.
So irresponsible de le. The first speaker is..hrmm...kinda boring. What he said is like all..common sense la. And the way he speaks, really omg-so-boring, making everyone yawn like every 5 seconds. Really! The 2nd speaker is just on the opposite. Fun and humorous. Humorous is what I seek in speakers. luckily :D
Then after coming back, went dad's office, den go buy coconut water! LoL

That's alll~

=)


♥live as you were to die tomorrow♥