OK, this time I'm serious laaaa. Tonight, I promise myself to complete Chemistry homework! Promise! I'm sick of putting it off one day after another. I'm so sick of such of habit of mine. grr.
I signed in my msn just now, and saw Shi Hui (my classmate) in the online list. I quickly click her name and IM her.
''Hey, you done your chemistry homework?" i asked her.
I thought she will most probably reply, yes just finished. But no lor! She replied me, " yesss passed up dys".
zadao!
Passed up? Ohh Mann..i've not even touched it! I got so nervous cuz I din hand in on time but I remembered teacher said this is holiday homework kan, so I think won't get demerit also lah, so nvm.
Actually our homework is to do correction for our final paper, and do those essay questions other than the one we chose. I went around asking people, and JiaXin (also my classmate) is the second person. Guess what? She had passed up the paper already, too!
These are the reasons why I suddenly
xia ding jue xing
to complete my chemistry work! Thanks both of you for giving me inspiration! :D or else I won't know when I will start my homework. haihs.
wanna do hw, hair all pinned up!
i really will do my homework ):
(emmm, this like doesn't look so convincing and promising...)
welll...........
..........
.......
......
.....
....
..
.
.
.
.
.
.
.
.
.
.
.
.
AH!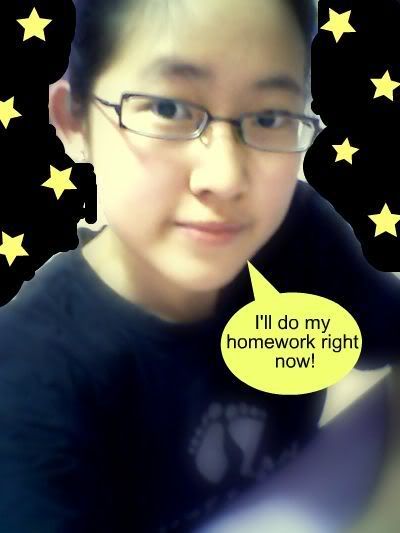 hahaHAhaAHHa~
♥live as you were to die tomorrow♥