There's nothing else I can say!

*in Lady Gaga mode
Hi friends!!
Trials is OVER, like..
finalley
! *joy
Ahhh, studied and mugged for 3 whole weeks,
this terrifying ordeal is finally finally over. *relieved
Thou SPM coming, that could wait.
A short week break for me first.
muahaha
Anyway, had accounts paper today, which is actually tomorrow, but brought forward to this morning. So, yesterday had a very bad time, rushing everything regarding accounts into my brain. Cause it was quite a long time ago since I last studied account, I thought Thursday(today) will be a good time to revise, but
ahhh
God knows, brought forward!
*gasp
My
,
ACCOUNTS
!! suddenly so memeningkan.
And I seriously have to thank
Felicia
aka
The Accounts Freak
who certainly helped me a lot!!
This woman came home with me after school yesterday and both of us had a great account session together. Hahaha. I can't help but to think she's really good at accounts. While I was busy revising and doing accounts, she was there, using my comp, playing Mafia Wars@Facebook so
relaxingly
.
Geeeeeeeez
totally intimidated me!!
Bleh hahaha
! Anyway, thanks very much, Fel :)
Er, by the way Felicia, does your dad read my blog? You certainly can't let him know you were playing Mafia! xD
But at last, I got really tired and sleeeeeeepy!!!!
Okay, I need to persevere,
like what Juana did lol
, last subject to go !!
...
...
And so,
I DID
!!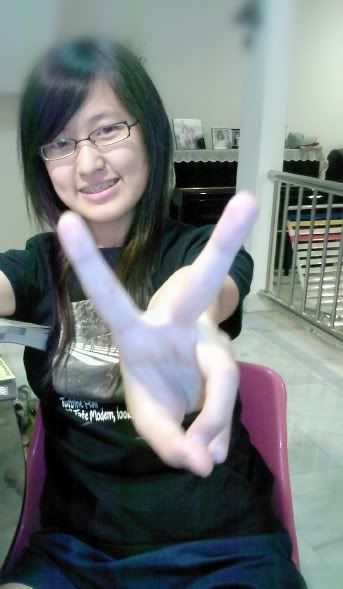 Dang!! But one of my accounts tak balance today. And the formula-formulae forgotten too much. Aiks T__T
Geeez!
Anyway,
Selamat Hari Raya!!
**p/s
: Thanks to you people who wished me luck and gave me encouragement through the 'My Reaction Tab' there. hahaha, thanks ya'all who ticked 'All the best' for me! They have undirectly gave encouragement to me!! Muahs
♥
♥
♥something extraordinary by someone ordinary♥