Mummy Alice's birthday falls on the
6th of September
.
And I thought of doing something special for her this year, instead of buying her stuff.
At the same time I was having trial, so not much time to do shopping.
hehehe
That Sunday, I woke up extremely early, 9 a.m
(hey I slept at 3)
to prepare a sumptuous breakfast for mum! You see, that's the
greatness
of having a daughter,
wakaka.
But honestly, that was the first time I cooked, er, no no,
frying eggs
and
cooking NICE maggi mee
can be counted or not huh? hahaha anyway, let me show you the
MOST WONDERFUL BREAKFAST
in the world I could ever find!!!!!! hiak hiak hiak. Don't GASP! You have to believe your eyes xD
1st Dish :
Taiwanese Style Fried Vermicelli
First of all, I need bean sprouts which is mum's one and only favourite! Owh, why don't I just fry a plate of bean sprouts? Hmm..
*drums rollllllllllllllllllllllllllll
Tadahh!
Shocked? Surprise? Doubtful? Unbelievable? Yes yes yes, this is
truly
cooked by muih, ME!! Even The Sister don't believe.
Grr
, but seriously, I cooked it!! just that I steal the recipe from a recipe book.
hahaha
. It looks nice, and tastes nice too! Mum was like you, surprised! :D
2nd Dish :
Fionamelette
It's an omelette actually.
Omg it's so funny. Hahahaha. It looked horrible. *shy* I used chilli sauce to make the writings and it looked awful. Geeez. I shortcut-ed it to
bday
instead of
birthday
. Hiak. Anyway, it tasted nice ok, despite the look xD
Dad's birthday's today!!
19th of September
. LJ's dad was born on the same day, same month and same year with my dad! How coincident is that? =)
This afternoon when I was out with LJ and WL, Mum phoned me and asked what size of cake should buy for Dad, 1/2 kg or 1 kg cake. And I said, "Ahh, 1/2 kg will do." Because nobody in my family really likes eating cakes, high calories!!
When I reached home, I
gasp
when Mum showed me the cake :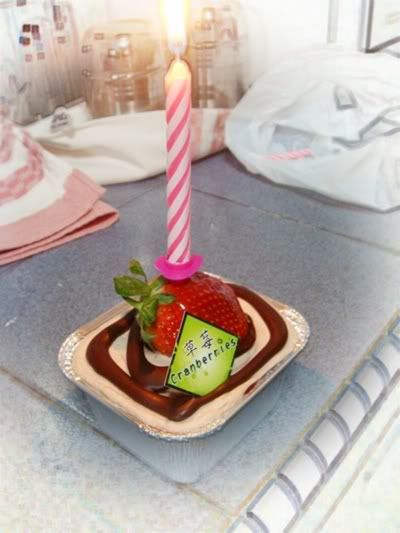 Me : "..........."
This is a
1/6 kg
cake or what?!!! A very
big
cake indeed.
Poor
dad, but nah, he doesn't really care the size of the cake also. Hahaha.
So,
HAPPY

BIRTHDAY
to DAD and LJ's DAD!! :)
On a separate case :
Today, we AGAIN, led a healthy lifestyle =)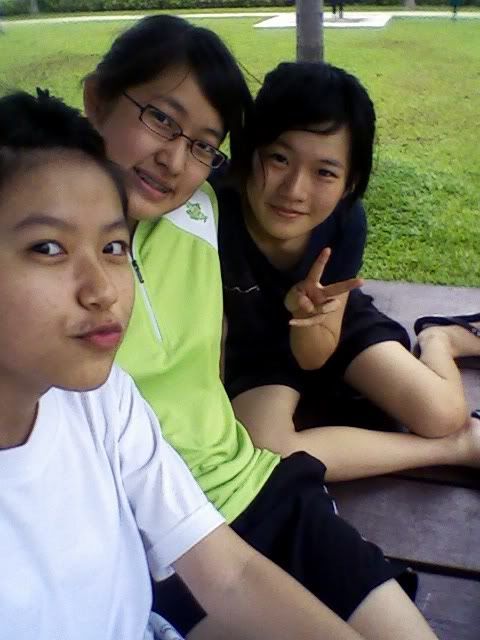 =)
Tomorrow
The Sister
is coming back!! Yay!!
Nais!!
♥something extraordinary by someone ordinary♥